Samedi 27 mai 2017 de 14h à 16h rencontre gratuite avec un écrivain et neuf écrivaines d'origine vietnamienne des Etats-Unis, du Canada et de France, The American Library (Paris 7e)
Inscription obligatoire :
Cet événement est gratuit et ouvert au public. Il faut s'y inscrire en remplissant le formulaire en ligne suivant :  online form ou  https://docs.google.com/forms/d/e/1FAIpQLScMz4sEd2cmwAbMKyhMFEeKJbVNpTC9MXJhXaV-OgANFXr8nw/viewform?c=0&w=1
(version anglaise du site internet de l'American Library: This event is free and open to the public, please RSVP by filling out this online form.)
***************************************
Lieu : 'The American Library in Paris'
10, rue du Général Camou – 75007 Paris
Tel.:  +33 (0)1 53 59 12 60  ou +33 01.53.59.12.65
Recommandation :
'Please feel free to arrive a few minutes before the program to sign in at the members services desk.
This event will take place in the lower level reading room.'
***************************************
Accès : 
http://americanlibraryinparis.org/about-the-library/location-and-hours.html
Transports en commun :
Metro: Ecole Militaire (l.8), Alma-Marceau (l.9). RER C : Pont de l'Alma
Bus : 42, 63, 69, 80, 82, 87, 92   RATP website
Vélib'
Vélib' stations close to the Library  How to use Vélib'
Parkings :
Saint Dominique, 133 rue Saint Dominique, Paris 7e (3 min à pied)
Quai Branly – Tour Eiffel, 25 quai Branly, Paris 7e (4 min à pied)
****************************************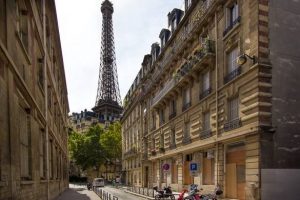 Plus d'informations (en anglais), y compris sur le programme et les auteurs présents :
http://americanlibraryinparis.org/events-programs/library-events/eventdetail/3449/163%7C164%7C165%7C166/collective-reading-vietnamese-women-writers.html?filter_reset=1
The Library is pleased to present a collective reading and presentation called « She Who Has No Master(s) » showcasing nine women writers of Vietnamese descent, now located in the U.S. and France, who will come together and read from a collective project exploring themes such as displacement, silence, memory and trauma, repercussions of war and colonialism. The writing collective consists of acclaimed and award-winning authors and academics encompassing a range of literary disciplines, including fiction, poetry, nonfiction, performance, and criticism.
The event will begin with a brief introductory statement by 2016 Pulitzer Prize winner, Viet Thanh Nguyen.
The first half of the reading presentation will include a multi-voiced poetic reading of new collaborative work by the nine women writers of the collective.
The second part of the event will be an individual reading by Anna Moi, author of The Butterfly's Venom (Le Venin du Papillon), recently nominated for the Ouest-France Prize.
The event will close with an audience Q&A. 
For more information about the « She Who Has No Master(s) » writing collective, a project of the Diasporic Vietnamese Artists Network, on their website: www.dvan.org
This event is free and open to the public, please RSVP by filling out this online form. 
About the speakers
Angie Chau is the author of Quiet As They Come, which Publisher's Weekly described as « serenely stirring stories, » and has been adopted into U.S. high school and university curriculum. She is a member of the San Francisco's Writers' Grotto. 
Lan Duong is associate professor in media and cultural studies at UC Riverside. Her most recent work is the award-winning anthology Southeast Asian Women in the Diaspora: Troubling Borders in Literature and Art. Duong is also a poet and has been published widely. 
Anna Moi migrated to France and then back to Vietnam, where she stayed for 22 years. She is the author of eight books, most recently a French/English work entitled The Butterfly's Venom. 
Hoa Nguyen is the author of four books of poetry, including her most recent, Violet Energy Ingots, which was selected as one of the top ten poetry books in 2016 by Publisher's Weekly. Nguyen teaches at Ryerson University, University of Miami, and Bard College. 
Thao P. Nguyen has been writing and performing solo shows since 2007. Her first one-woman show, Fortunate Daughter, was one of the Top 10 Bay Area Plays of 2013 by KQED. Her second solo show, WHITE POWER: A Comedy, debuted in 2016.
Isabelle Thuy Pelaud is professor of Asian American studies at SFSU and author of This Is All I Choose To Tell: History and Hybridity in Vietnamese American Literature. She is the founder and co-director of the Diasporic Vietnamese Artists Network (DVAN).
Aimee Phan is author of the collection We Should Never Meet and the book The Reeducation of Cherry Truong. She has been awarded fellowships and residencies by the National Endowment for the Arts, among others. Phan chairs the Writing and Literature Program at California College of the Arts. 
Dao Strom is the author of Grass Roof, Tin Roof and The Gentle Order of Girls and Boys. She is the recipient of the 2016 Creative Capital Artist Award, along with other awards from the Oregon Arts Commission, National Endowment for the Arts, Regional Arts & Culture Council, among others. 
Julie Thi Underhill works in essay, poetry, film/video, photography, performance, and fine arts. Her publications include Troubling Borders: An Anthology of Art and Literature by Southeast Asian Women in the Diaspora, Veterans of Peace, Veterans of War, and Takin' It To The Streets, among others. 
Site internet de The American Library in Paris : http://americanlibraryinparis.org/